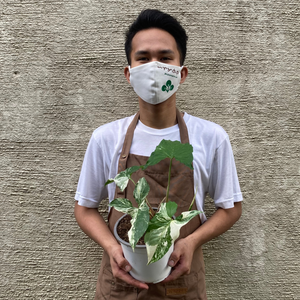 The Syngonium podophyllum 'albo-variegatum', commonly known as the Variegated Arrowhead Vine. The plant is also grown widely across Mexico and Brazil and is highly coveted because of its gorgeous variegation and reputation as a fast-growing climber.
The Syngonium Albo Variegatum has unwavering popularity among growers. It is no doubt that they make an excellent houseplant being not only attractive but also easy to grow.


Light - Variegated Syngonium plants are used to receiving dappled light. Note that too much direct sunlight can cause the leaves to scorch and have a white-bleached appearance.




Water - The best watering technique is to never let the soil dry out, but to keep it always just a little moist.

Humidity - The ideal humidity for Syngonium Albo Variegatum is between 50 to 60%.


In Halamanin, we make sure that you will only receive the best and stable plants.

For bulk orders, landscaping projects, or questions about the plant, e-mail or message us!