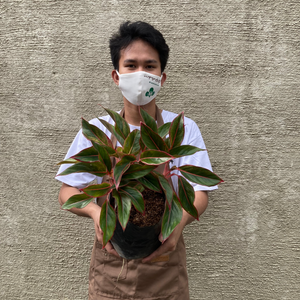 Aglaonemas are often vibrant and colorful, with strikingly patterned leaves. Because they're so easy-going, Aglaonemas are perfectly suited for a modern living room or office, dim bedroom, or cozy study. Because of their tolerance for both moist and dry conditions, and the fact that they will thrive with low light, they are a perfect choice for less than ideal light conditions or forgetful plant owners.


Light - Aglaonema prefers indirect bright light. It can adapt to low light, but the growth will slow considerably. Direct morning sunlight is fine for this plant, but avoid direct afternoon sunlight which can burn the leaves.




Water - Water it when 50% of the soil volume is dry. Water until liquid flows through the drainage hole at the bottom of the pot

Humidity - This plant can survive in a low humidity environment, but it will thrive with higher humidity levels.


In Halamanin, we make sure that you will only receive the best and stable plants.

For bulk orders, landscaping projects, or questions about the plant, e-mail or message us!