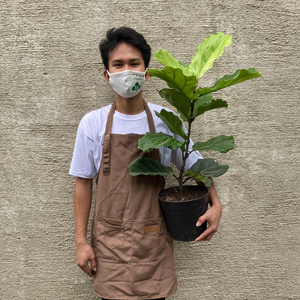 The Fiddle Leaf Fig is easily recognizable and loved for its distinctive foliage. This tall, dramatic plant has very large, heavily veined, violin-shaped leaves that grow upright. It's not bushy, making it a beautiful interior design addition for a brightly lit corner or cozy nook in your home.
Native to the tropic climate of Western Africa, the Fiddle Leaf Fig thrives in very warm, bright, and humid conditions. They are relatively tough and can withstand less than perfect conditions.



Light - Keep your Fiddle Leaf Fig in bright indirect light.




Water - Water when 50-75% of the soil volume is dry. Always water thoroughly until it flows out of the drainage hole to encourage a healthy root system.


Humidity - It 

does fine in average household humidity.

In Halamanin, we make sure that you will only receive the best and stable plants.

For bulk orders, landscaping projects, or questions about the plant, e-mail or message us!