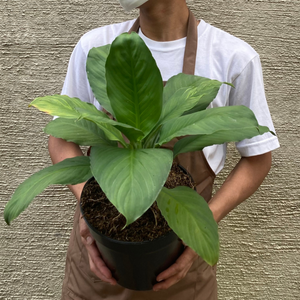 Peace lilies are a great houseplant for your home or workplace. These attractive plants not only light up a living area, but they also help to purify the air in the room. Dark green leaves and white "flowers" are the most prevalent characteristics of these plants. The flower is really a specialized leaf bract that develops hooded over the blooms, as most people believe.


Light - Keep these plants in a bright, well-lit spot, away from direct afternoon sunshine. An east-facing window is good since it will get the brilliant morning sun while avoiding the harsh midday rays.




Water - Consistency is crucial when it comes to watering. Maintain a constant moisture level in the soil, but avoid overwatering. Peace lilies can withstand dry soil for short periods of time, but if left alone for too long, their leaves may turn brown.


Humidity - Peace lilies thrive in humid environments. Misting the plant's leaves or setting it on a wet tray of gravel might assist to enhance humidity around it.


In Halamanin, we make sure that you will only receive the best and stable plants.

For bulk orders, landscaping projects, or questions about the plant, e-mail or message us!