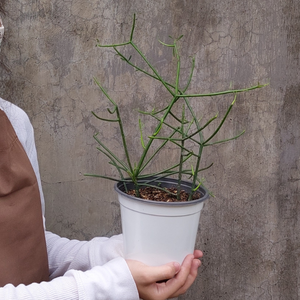 Due to its rich, milky sap, the Pencil Cactus (Euphorbia tirucalli) is also known as milk bush. It is endemic to semi-arid tropical areas of Africa and India. The Pencil Cactus may reach a height of 30 feet in the wild and well over 6 feet indoors. This stem succulent is not a real cactus, and it photosynthesizes in its stems rather than the tiny leaves that emerge at the end of new growth.


Light - Keep your Pencil Cactus in a light spot for best results. Low light conditions are not suitable for this plant. For this plant to grow, it needs direct sunlight or enough bright ambient light from a western, eastern, or southern facing window.




Water - Water every one to two weeks allowing soil to dry out between waterings. Increase frequency with increased light.


Humidity - Average home humidity is fine; can tolerate dry air.


In Halamanin, we make sure that you will only receive the best and stable plants.

For bulk orders, landscaping projects, or questions about the plant, e-mail or message us!