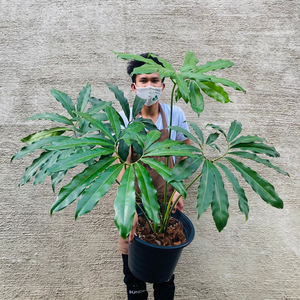 Philodendron Goeldii or the Finger Leaf is 
a tropical plant native to French
Guiana.
It is 
called Finger Leaf
 because of the growing pattern of its long, clustered leaves. 


Light - Philodendron Goeldii thrives in moderate to bright indirect light. You can grow it both indoors and outdoors depending on the weather conditions. Do not expose it to direct sunlight as it can cause the leaves to burn and the plant to die.

 


Water - Water twice a week. There should be a slight break between two watering sessions for the soil to dry out and absorb water again.


Humidity - 

keep in mind that they grow well in moist soil, which means that the humidity level must be high. Anything ranging from 60%-80% in the morning and night is acceptable.

In Halamanin, we make sure that you will only receive the best and stable plants.

For bulk orders, landscaping projects, or questions about the plant, e-mail or message us!