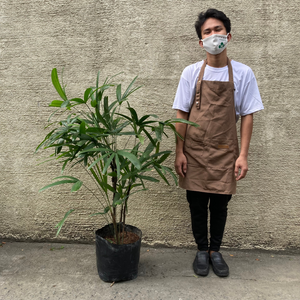 Palms are robust, low maintenance, and a classic addition to any plant collection. Though Palms are unmistakably tropical, their elegant fronds will complement any decor. Palms tend to grow slowly, so you don't need to worry about them outgrowing their spot too quickly.

Height
More or less 4 ft.


Light - 

Rhapis Palm prefers bright indirect light. Do not place your plant in full sun as it can burn.






Water - Allow the top 50% of the soil to dry out, and then water thoroughly until water comes out of the drainage hole. Never let your plant sit in water or soggy soil, as it can lead to root rot.


Humidity - 

will do well in average home humidity.

In Halamanin, we make sure that you will only receive the best and stable plants.

For bulk orders, landscaping projects, or questions about the plant, e-mail or message us!