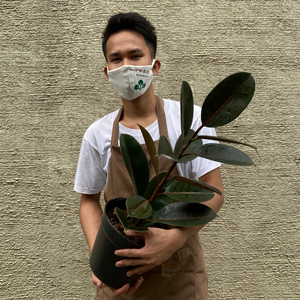 The Rubber Tree is robust and dramatic, with large, glossy leaves. This striking plant is low-maintenance, durable, and can add eye-catching dimension to a well-lit corner!
Plant Height:
More or less 2 ft.


Light - Black Prince Rubber Tree prefers bright indirect light. Direct sunlight in the morning or late afternoon is fine, but avoid harsh midday sun which may cause leaf scorch. This plant does not tolerate low light.




Water - Water when 50%-75% of the soil volume is dry. Water slowly so that it soaks into the soil until it flows through the drainage hole at the bottom of the pot.


Humidity - It does fine in average household humidity.


In Halamanin, we make sure that you will only receive the best and stable plants.

For bulk orders, landscaping projects, or questions about the plant, e-mail or message us!