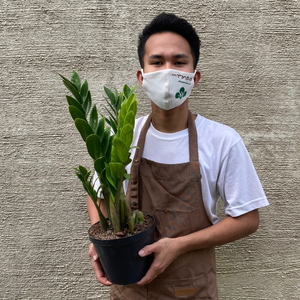 ZZ Plants are tough—making them perfect for the forgetful plant owner. These hardy plants are able to survive for months without water and will grow well in any light except direct sun.
They are graceful with wand-like stems that taper to a point. Along the stems are fleshy, oval-shaped, shiny leaves giving them a distinctive feathered appearance.


Light - Your ZZ Plant prefers medium to bright indirect light, but it is extremely adaptable. It will tolerate low light and fluorescent lighting in a windowless space.




Water - Water your ZZ Plant only when the soil is completely dry. Water until liquid flows through the drainage hole at the bottom of the pot.

Humidity - This plant does not require any extra humidity.
Tips: As a survival technique, the ZZ Plant has evolved to start dropping its leaflets to conserve moisture during periods of severe drought. If you forget to water yours and see the leaves fall off, don't give up hope! Water your plant immediately and it should come back. Yellow leaves can indicate overwatering.


In Halamanin, we make sure that you will only receive the best and stable plants.

For bulk orders, landscaping projects, or questions about the plant, e-mail or message us!